In February Ayah Ayah Abine was called up for questioning at the National Gendarmerie Secretariat (SED) in Yaounde. He was later sent home without any charges, but was told he was going to be called again if needed.
Two months later, the head of the Ayah Foundation has received an official summon for questioning but this time around, at the judicial police. He is expected to be there at 11AM on Wednesday May 6th.
Ayah Ayah Abine who had once hinted that government was hatching plans to arrest or eliminate him, took to social media revealing that he was once again going to be questioned on the ongoing crisis in the North West and South West regions.
"After being questioned at SED on two consecutive days, it's now the turn of the Judicial Police, Yaoundé, on grounds of suspicion for financing terrorism on orders from the Presidency of the Republic of Cameroon" he wrote.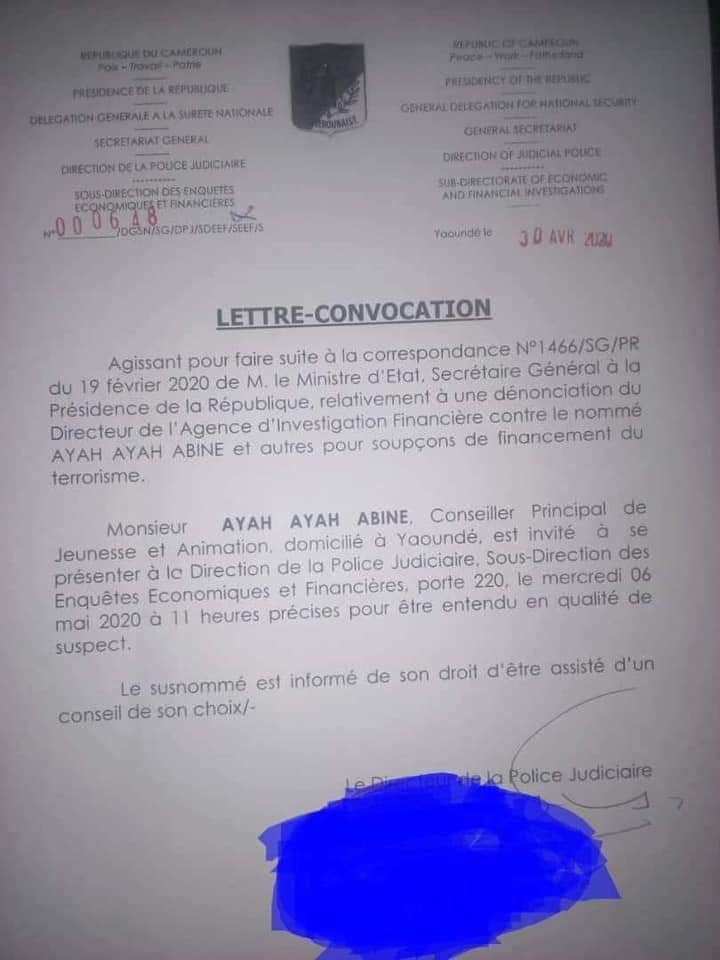 Recalling accusations levied against him and the foundation, he says "I thought that there were over 100 proofs to prove the lie that the Ayah Foundation, of which I'm president, is a terrorist organization buying, importing and offering guns to amba boys."
"We have been waiting for close to five months to see the proofs to no avail" he says, adding that "even faking evidence this time appears to be very difficult."
In December, Ayah sued Dr. Success Nkongho, Njume Frankline, Ernest Obama, Vision 4 TV, "Ma Kontry Pipo Dem" ( a social media platform) and L'Anecdote newspaper for exaggerated defamation, blackmail and propagation of hate speech against the Ayah International Foundation of buying, importing and distributing arms to "Amba Boys" in the North West and South West regions. Recalling that the case comes up in two weeks, he says "that case must hold with or without me."
"We will not succumb to any intimidation wherever it's coming from. The whole world wants to see proofs of the buying, importing and distribution of guns to amba boys… Those protecting you in Yaoundé will neither live forever nor will they save you from the wrath of the international courts" warns Ayah Ayah.
The Ayah International Foundation is one of the most renowned humanitarian groups assisting victims of the Anglophone crisis that has been ongoing since 2016.
Mimi Mefo Info
You can help support our work through the link below