Over the last three months, Cameroon has received 4.2 tons of medical equipment, 35 national and four international experts, 80,000 tools and communication media and 35 vehicles from the World Health Organization (WHO).
Valued at CFAF 550 million, the WHO says it has been multiplying efforts alongside the country to prepare and respond to a possible importation of the new coronavirus (SARS-COV2).
In a press release, WHO says as part of the support, it has also mobilised staff for response to the epidemic and deployed 39 experts including four internationals and 35 nationals.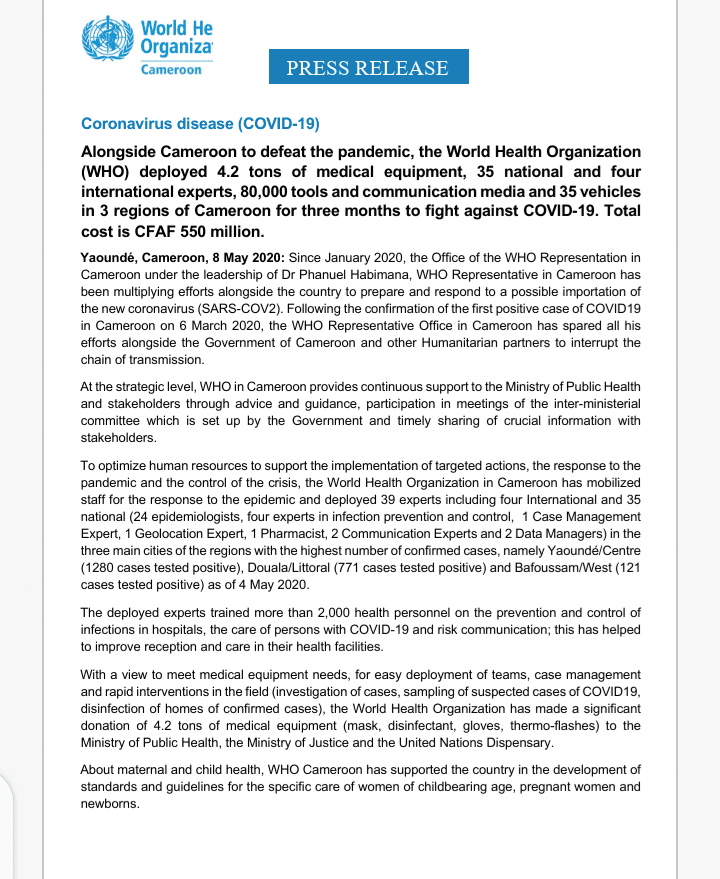 "The deployed experts trained more than 2,000 health personnel on the prevention and control of infections in hospitals, the care of persons with COVID-19 and risk communication; this has helped to improve reception and care in their health facilities" it states.
In addition to training over 3,000 trusted influencers under its framework of risk communication, community engagement and community-based surveillance, it has also "deployed 1,080 community health workers for almost a month now for community sensitisation, the reporting of COVID-19 case alerts and the follow-up of contact persons in the cities of Yaoundé, Douala and Bafoussam."
In addition to the fact that it has maintained and mobilised all its field staff, WHO says it is renewing its commitment to "continue to provide technical and financial support to the Government of Cameroon until the final interruption of the spread of the pandemic to COVID-19."
Cameroon has recorded over 2,000 positive COVID-19 cases with dozens of deaths.
Mimi Mefo Info
You can help support our work through the link below