By Tata Mbunwe
Awa Blaise Chi, a 20-year-old internally displaced student from Pinyin in the Northwest Region, has stunned Cameroonians with another mind-blowing prototype innovation – an open bridge he designed.
He first displayed his latest invention, described as 'prototype version of London Bridge' on March 10 in Douala, as he represented his school at this year's Open Door Day for technical colleges in Cameroon.
The bridge, which does not yet exist anywhere in Cameroon, is a flexible, electric-powered structure that can be shifted to the sides, or opened up to allow large ships to pass where they cannot navigate beneath the bridge.
Awa, who now lives in Douala due to armed conflict, told MMI the bridge can also be useful for security purposes, where authorities want to restrict crossings without necessarily blocking the bridge.
"What I made here is an electronic bridge that a country having it always decides when cars should pass or not. Also, when a heavy ship wants to cross to another side, they open it for the ship to pass freely," he said.
"The open bridge serves many purposes, not only for some heavy ships to cross, but especially in times of emergency. In times of some criminal act in the city or country, it can be cut off automatically to arrest the offenders and also to stop a problem from one side of the town from affecting the other side."
His inspiration for the innovation came from around. The 20-year-old tech genius said he realised there was a problem that needed to be solved when he observed how bridges in Cameroon were constructed, notably Cameroon's longest bridge across River Wouri in Douala.
"I have studied the Bonaberi bridge that links the other side of the town (Douala) and discovered that no ship can pass under it anymore more because it is too low. But this would have been a problem if it was this type of bridge."
The open bridge is the latest of several innovations Awah Blaise has made in the past.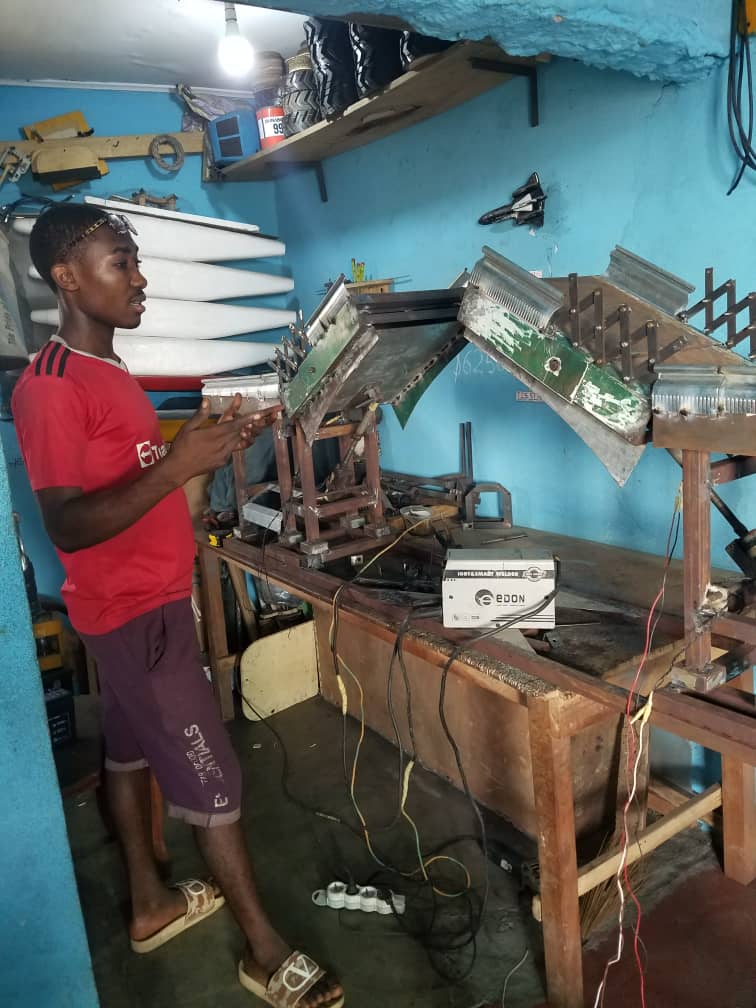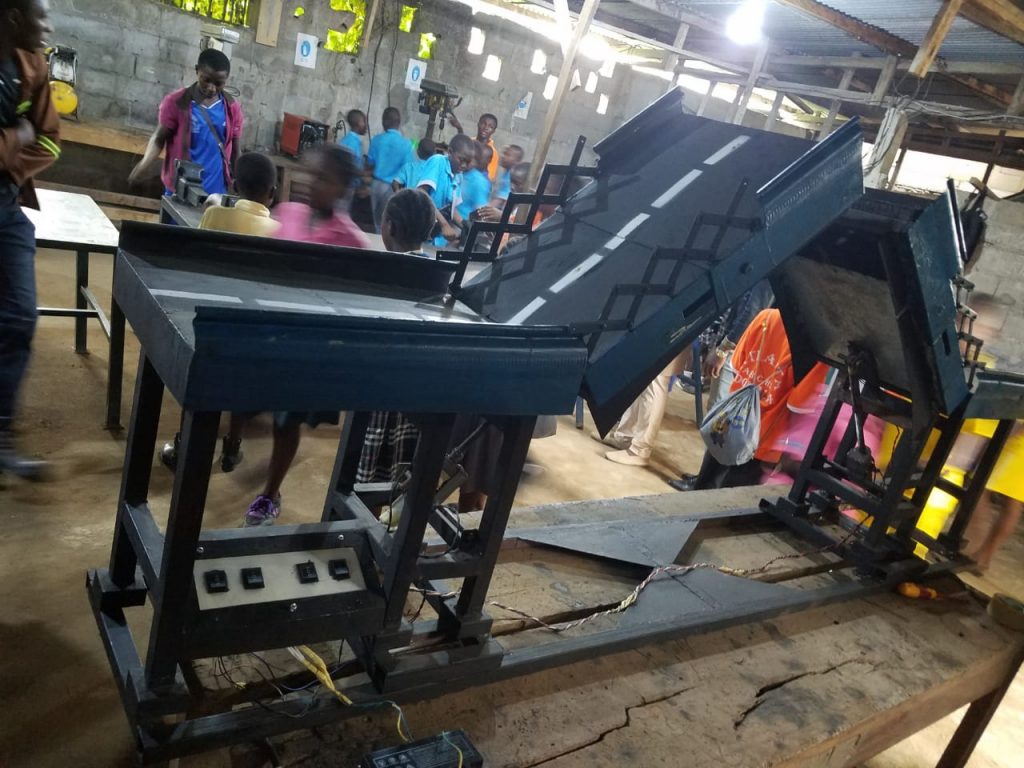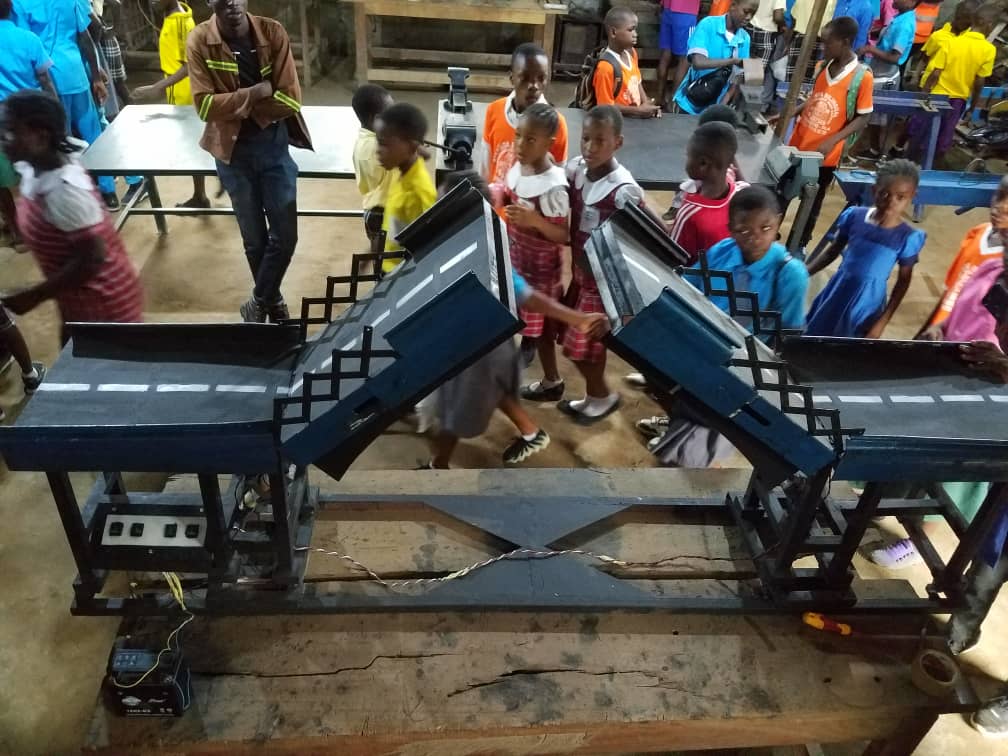 His creativity started at a very tender age, but first gained nationwide popularity in 2019 after he displayed prototype toys he had made from card board and carton.
In 2020, he upgraded his products and began using waste metals to produce movable bulldozers, airplanes, excavators and toy cars.
In 2021, he made an automatic trash can that opens once a person comes close to it. He has also made several other products and organised sessions to train his school mates.
Just a few years back, Awa's education was halted by an armed conflict that forcefully displaced him and his family from Bamenda to Douala.
However, his creative works he earned him a scholarship that helped him bounce back.
He continued his education at Atlanta Comprehensive High School, a bilingual technical college in Bonaberi, Douala, where he studies Industrial Fabrication (Shirt Metal).
The Form Five student is always on top of the class when it comes to practicals.
The native of Pinyin, a small village in Santa Subdivision of the Northwest, hopes to become a great engineer, not just in Cameroon, but in the world.
In 2021, he opened a small factory called Chi Style where he makes toy cars and trains other youngsters who are interested in his work.
He told MMI he could produce more of what he does if supported with money to build a larger factory and buy equipment such as a 3D printer that will modernise the physical outlook of his products.
How to contact Blaise: +237 677747881
Mimi Mefo Info
You can help support our work through the link below