The past months have seen the emergence of several young Cameroon creative minds.
One of those who have shot to the limelight is Awah Blaise Chi. The youngster who is currently an Internally Displaced Person, IDP became widely known in 2019 after he displayed samples from his automobile toy factory, Chi Style.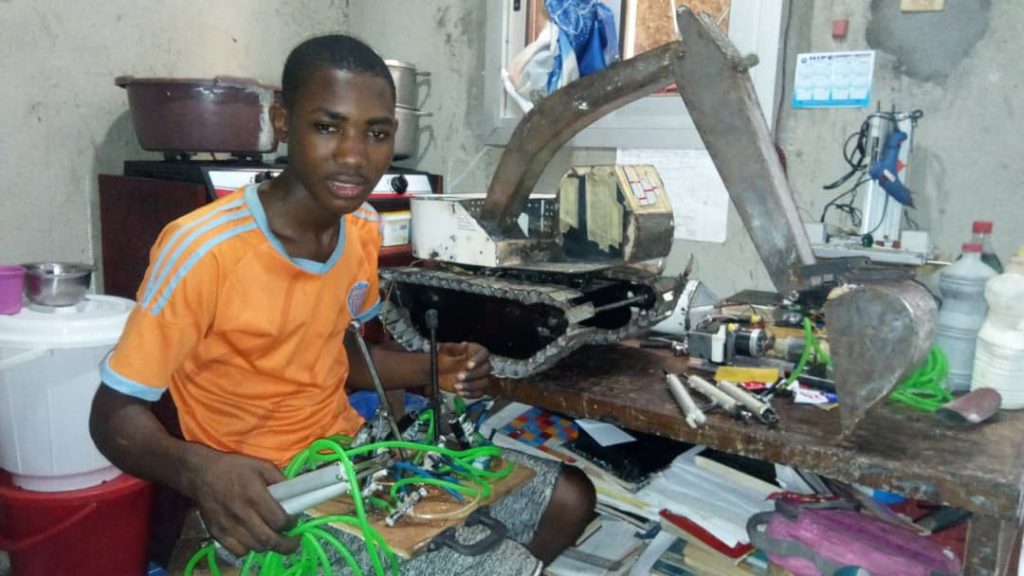 One year later, he is still waxing strong. Unlike last year when he used cartoons and paper to make his samples, Blaise has upgraded to scrap metal, adding functionality to his robots. His key creations include airplanes, military fighter jets, trucks and more recently, a functional mini-excavator frontend loader.
After his exposure last year, he says he was assisted by persons of goodwill enabling him to purchase more durable equipment, though it remains insufficient. He says "I always go to where I can find iron scrap, since I can't afford some of the materials."
"Both the aircrafts and caterpillar (frontend loader) took me about seven months to create, largely due to lack of materials. The caterpillar is made of complete heavy iron, that's why it also took a lot of time,"

he tells Mimi Mefo Info.
The lack of finance and resources have however not restricted the youngster's creativity, as he has still been able to improve on the mechanical system, the designing and electrical system of his innovations. His work, he says, will be easier provided he has the necessary support, tools and space.
"I need an open workshop equipped with good machines like the lead machine, a milling machine and a 3D printer. The iron prototype is not a perfect design of what I had in mind due to the lack of these …. I used poor and wrong parts for the construction because it was not easy to afford," he reveals.
The lack of the above equipment have also posed a serious challenge to his health, due to the lack of safety kit, almost costing him a finger.
"I had a serious injury because I was using only a filling machine, a drilling and welding machine which cannot do a perfect job."
Despite being unable to work for a month due to the injury he sustained, Awah Blaise describes himself as an addict to creativity with big plans.
"I am addicted to technology. I feel troubled when idle and not thinking of what to create… I have a plan to obtain my PhD in engineering in order to gain perfect skills in the technology field. Also, I plan to create an industry here in Cameroon so that children will learn too. When I watch European kids operating technological devices while youths in my country are not doing same, it makes me to wonder a lot,"

Awah Chi laments.
Call for government action
Blaise's plans may be long term but at the moment he is doing the best he can with the available resources and avenues. This includes educating anyone he can, whenever he can.
"There are about five friends that I have taught some of my innovations and they are powerful now… one is a brother that recently flew his aircraft in Bamenda. When he started, he could only build a skeleton of it but when I went to Bamenda, I took him to Douala and showed him where to buy the electrical gadgets that the aircraft needed to fly. After that he spent about a week with me and I taught him how to carry out the electrical wiring and using the remote on his aircraft before he left for Bamenda."
With the aid of government, Blaise believes more creative minds like himself can be shown the right path and given an avenue to express themselves freely. This, he adds, will require the creation of a physical structure to cater for their needs.
"I really wish government could create an innovation center for youths and provide them with tools and what they need to prove their inborn talents. In the space of three years, Cameroon will be full of powerful talented youths as far as technology is concerned … nothing is really hard to do in this world."
Using himself as an example, he adds that "most people believe only white people do machines and at times I am so surprised I came out with the mini version you see functioning. I really believe youths can team up together and do something bigger than people imagine."
Despite the existence of initiatives like the ICT week that sees youths compete with technological creations, many believe more needs to be done to identify, support and nurture young creatives.
You can help support our work through the link below