On May 5th, President Paul Biya in a decree created the Limbe Port Authority in Cameroon's South West region.
Praising the move, the Fako Lawyers Association (FAKLA) says it is a positive response to the cries of Anglophones for the last decades.
Urging the government to speed up the process of making the facility go operational, FAKLA says it "considers it a duty to let government know that the management of the the Limbe Port Authority must be structured in a manner that is beneficial to the population of the Anglophone community."
In this light, they say government should ensure it is not managed like SONARA "where labour force is made up of predominantly Francophones and Anglophones make up less than 5 percent."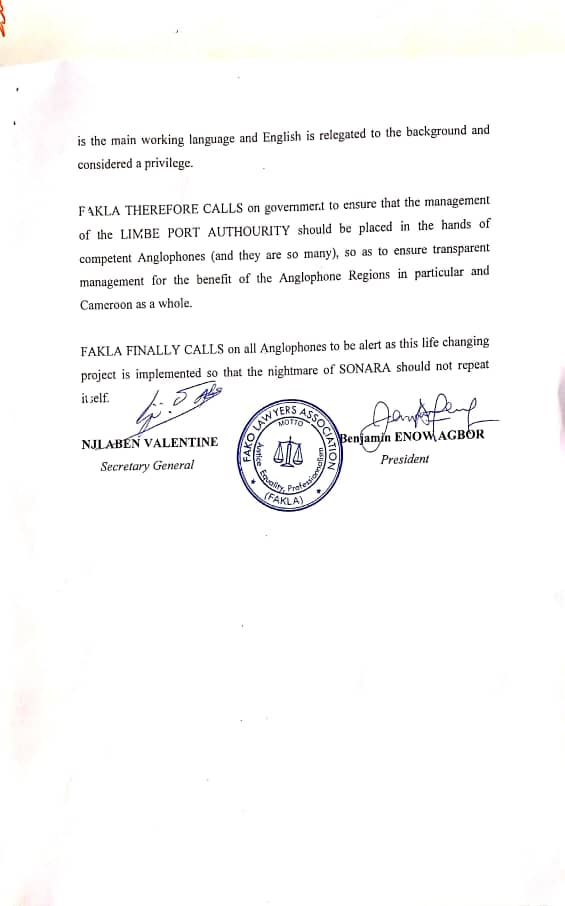 "FAKLA therefore calls on government to ensure that the management of the Limbe Port Authority should be placed in the hands of competent Anglophones (and there are many) so as to ensure transparent management for the benefit of the Anglophone regions in particular and Cameroon as a whole".
Mimi Mefo Info
You can help support our work through the link below