There have been contrasting versions from the administration of Cameroon on the killings of people in Ngarbuh community, Ntumbaw village in Ndu subdivision, Donga Mantung Division of the country's North West region.
In a release from the Ministry of Defense Monday, February 17, the killing of civilians and destruction of property in Ngarbuh came as a result of military confrontation with separatists as the military were in a process of dislodging a base of the separatists.
"In the attack, seven separatist fighters present in the area were neutralized. Fighting continued leading to the explosion of several containers of illicit fuel and ammunitions that affected other neighbouring houses."
According to the release signed by Atonfack Guemo, Head of the Communication Service at the Ministry of Defense, a fire incident that erupted caused the death of five civilians, that is, a woman and her four children.
The release adds that separatist fighters and their allies have been spreading propaganda information and images on the social media aimed at deceiving people and attracting the sympathy of the international community. The Ministry says separatists are using old pictures taken in Mezam division in 2019.

The release ends by pointing that further investigations have been opened.
The release has stated something different from what a local administrator is explaining concerning the incident. In a telephone interview with a reporter of Mimi Mefo Info Monday, February 17, the Divisional Officer of Ndu subdivision explained that separatists fighters in civilian wear attacked their colleagues separatists that were putting on military uniforms.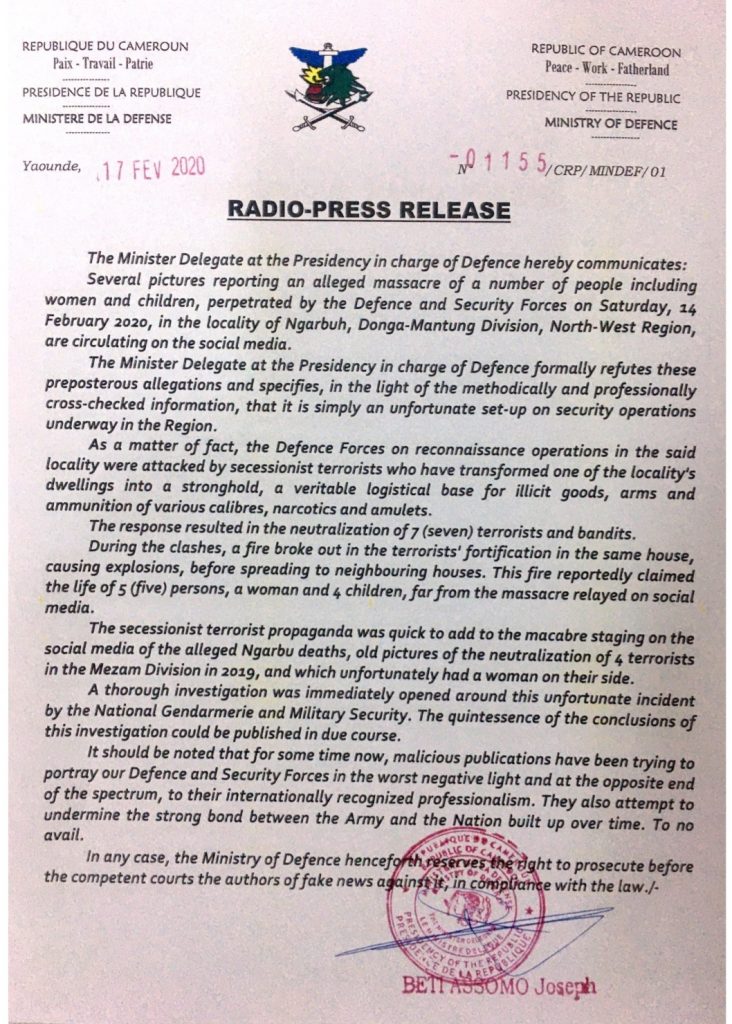 According to DO Adamu Shaibu, military men did not go to Ngarbuh and were not involved in the fighting.

In another aspect of what some people have describe as "suspicious contradictory explanations from the DO and the Ministry of Defense" concerning the massacre, the DO said he cannot determine the number of people killed in the course of the fighting but the Ministry of Defense says seven separatists and five separatists were killed thereby giving a total of twelve.

At the moment, Cameroonians are further confused given that authorities do not agree on what happened and equally disagree on the number of casualties.
Mimi Mefo info.
You can help support our work through the link below