By Mbatho Ntan
President Paul Biya is offering an undisclosed financial package to all traditional rulers in Cameroon participating in regional elections this Sunday, December 6, 2020.
In a release issued Wednesday, December 2, 2020, the Minister of Territorial Administration says President Paul Biya who doubles as the National President of Cameroon People's Democratic Movement (CPDM) political party has mainly responded to an earlier plea by the traditional rulers for the president to help them with money to run their campaign.
Paul Atanga Nji has therefore instructed regional councils to distribute the money to traditional rulers with immediate effect.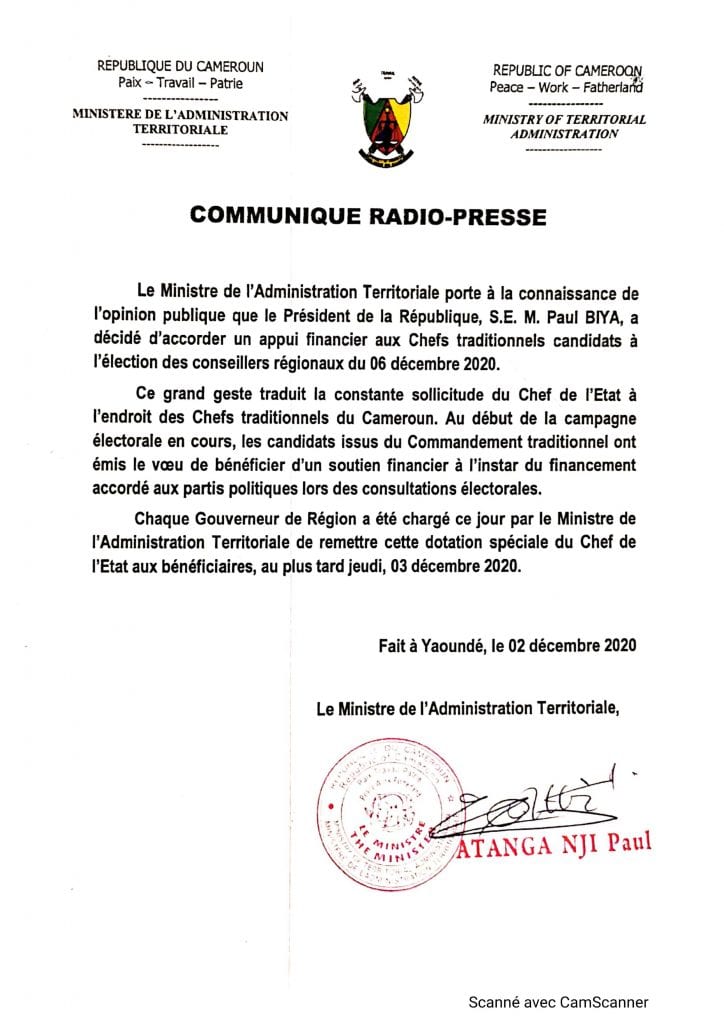 Earlier this week, the chairman of the national anti-corruption commission (CONAC) stated that material and financial assistance during election aimed at influencing voting pattern is corruption.
Rev. Dieudonne Massi Gams insisted that corruption will bring in bad elected officials with an interest to swell their bank accounts and not to serve the people. He reminded politicians that corruption is punishable.
The financial assistance coming four days to Election Day has been described as a form of bribe to win the votes of traditional rulers for the CPDM party.
Tayong Fah Elvis, deputy Secretary of Communication of the opposition Cameroon Renaissance Movement, CRM, has described such a move as "political manipulation."
The political analyst says traditional rulers will be disappointed when the regional council will be put in place.
He states that without a decision-making power, regional councils will be under the beg and call of the central administration in Yaounde.
Traditional rulers have been expressing appreciation following the announcement of the financial package from president Paul Biya.
You can help support our work through the link below