While countries like China are starting to recover from the coronavirus, African nations in particular are still starting.
Being the most hit nation on the continent, South Africa earlier last week instilled certain measures to contain the spread of the virus.
The country's government has promised to handle those who deliberately endanger themselves and others during the pandemic and is considering getting the army involved as the number of cases recorded reached 240 as of Saturday March 21.
"Right now it is restrictions. (We) might have to begin to bring in the army to go out and work around the people, talk to them about hygiene, getting them to go sanitise, and so on" South Africa's health minister Dr Zweli Mkhize is quoted saying.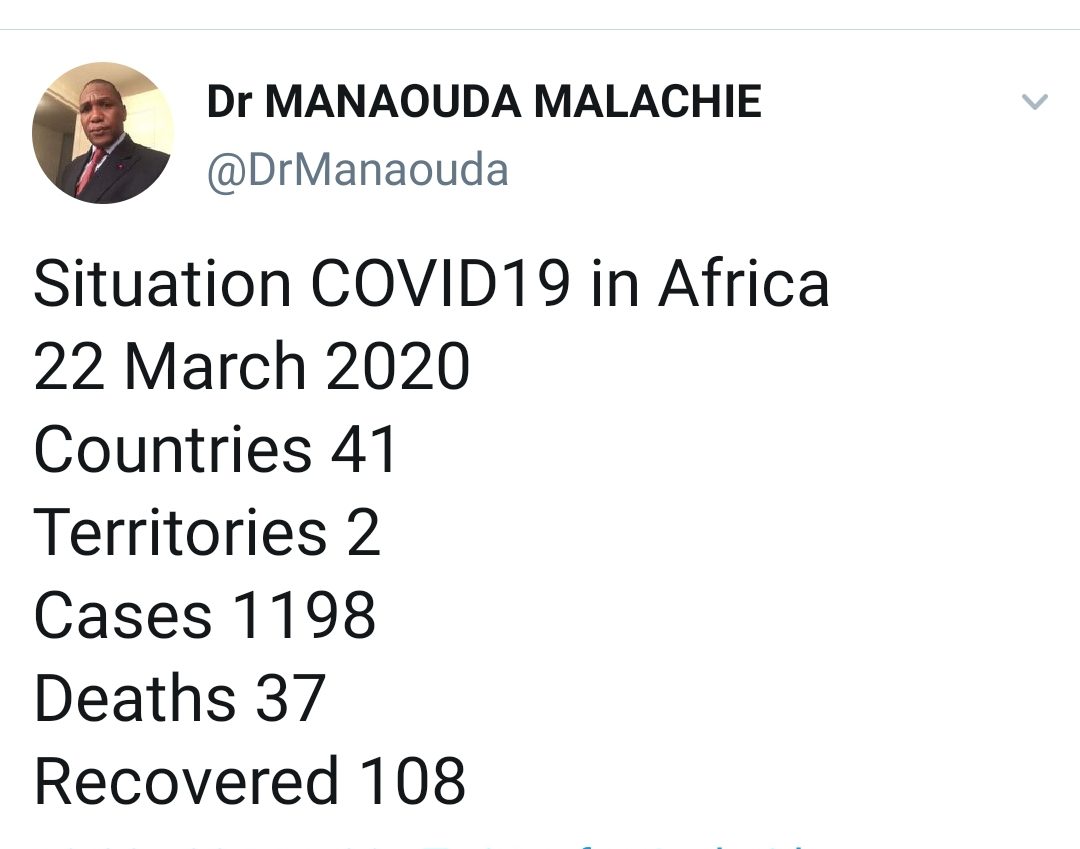 Uganda on its part is expected to shut down its borders like Cameroon, permitting cargo only. Rwanda on its part has restricted all unnecessary travel for the next two weeks, and Africa's most populated country, Nigeria on its part is restricting incoming flights for a month.
While Ethiopia said all arriving passengers will face mandatory quarantine as of Monday, Somalia said it is lifting its ban on international flights for two days so stranded citizens can come home – the Daily Mail reports.
Despite recording over a thousand cases however, Africa has not witnessed as much deaths as other continents.
Ghana which was one of the first African countries to begin shutting down services currently has slightly over 20 cases, but has recorded one death already.
While 41 countries have been affected, there are over 1190 confirmed cases while 37 people on the continent have died from the disease.
Among the greatest challenges African States are set to face due to the pandemic and eventual lockdowns CNBC reports, are trade disruptions, debt vulnerabilities and a limited scope for monetary policy maneuvers threaten a slow of African economies as the coronavirus pandemic arrives on the continent.
The UN Economic Commission for Africa (ECA) it adds warned last week that the coronavirus crisis posed a serious threat to the continent's already stagnant growth with ECA Executive Director Vera Songwe explaining that Oil-exporting nations in particular could lose up to $65 billion in revenues this as crude prices continue to tumble"Africa may lose half of its GDP with growth falling from 3.2% to about 2 % due to a number of reasons which include the disruption of global supply chains," Vera Songwe had said in a press conference on Friday.
While the negative economic effects seem to be obvious, African states can do little but implement containment measures for the virus and wait, hoping the virus is contained before their economies get hard hit.
MMI
You can help support our work through the link below