The Company in charge of electricity distribution in Cameroon, ENEO, has threatened to suspend electricity from the University of Douala, for owing them 1.7 billion CFA bills.

In a note addressing the
Rector of the University of Douala, the electricity supply company indicated that the school's unpaid bills amounts to 1.7 billion CFA.


"Except for error or omission on our part, the examination to date of your accounts in our books reveals that you still owe us the sum excluding late payment interest of 1, 760, 818, 212 FCFA," disclosed ENEO in their release.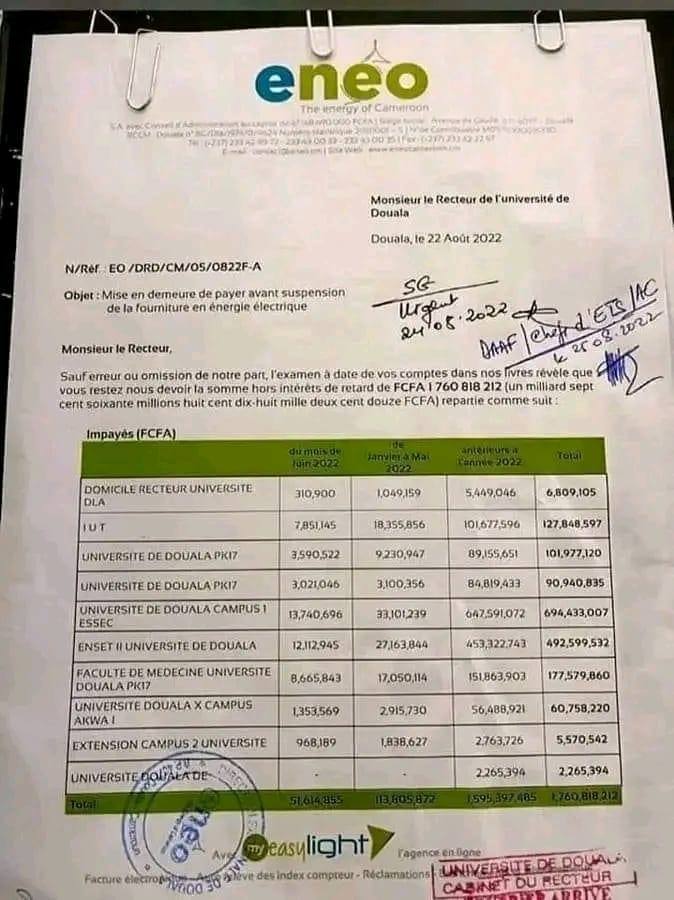 It should be recalled that on December 2021, the State of Cameroon had to implement a clearance plan aimed at reimbursing in total, 182 billion FCFA of debts to Eneo.


By Amina Hilda


————————————-
The Mimi Mefo Info Team, (MMI) appreciates all your constant support.

We are driven by the fact that you remain our only source of inspiration, as we continue to gather, write and publish stories without fear or favour.

These are, however, very trying times for several journalists, especially for MMI whose reporters have to brave all the odds to work remotely for fear of reprisal attacks.

That's why we continue to ask for your constant support.

How to support us!

*Please share our website link with friends and loved ones daily


*You can also support our dynamic team working day in and day out to keep you up to date, with any amount.

Use the following payment methods:

PayPal: contact@mimimefoinfos.com

Mobile money: +237679135573

Bank Transfer: Account name: MIMI MEFO INFO LTD
IBAN: GB49TCCL04140456360181
SWIFT/BIC: TCCLGB3L
Intermediary bank SWIFT: BARCGB22 (only use if required by sender bank)*
You can help support our work through the link below